Overview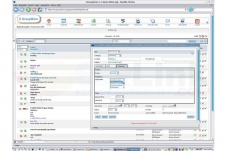 eGroupWare is many things. It is a very flexible pluggable framework capable of hosting applications like a group calendar, AddressBook, Email, accounting ledger, inventory, and whatever else your can think of. These applications can share a common user store, and a flexible Access Control List (ACL) system to control access and information sharing. At it's core there is the phpgwapi, an API written for php, that provides some very useful functions and tools for developers, including the user store, which has several back ends, database abstraction, and a flexible templating system. Applications are then written using the phpgwapi and phpgw framework to provide web based tools to users.
Single Click and Install Web Apps/Scripts
With over 150+ pre-installed programs for our Linux hosting customer receive value added tools and web programs available at no extra install fees, Great scripts including open source and commercial.
Simply login to your Plesk control panel, click on
Install Web Application
and select the web based script/program you want to install. Within minute our script will configure everything for you.
It can't get any easier than that! Most web hosting providers charge "addon" fees to install these programs for you.
Related Links
*** The above information is for reference only, Please seek independent technical advice if found necessary.