Overview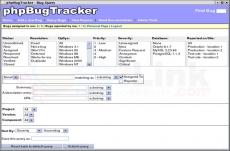 Thanks for taking a look at phpBugTracker. This project was started out of the frustation I experienced getting Bugzilla installed and operational for a web development project. The goals of this project are to produce a web-based bug tracker with functionality similar to bugzilla that is abstracted from the database backend and uses templates for rendering the pages. Currently phpBugTracker is nowhere near a drop-in replacement for Bugzilla, so don't expect it to be. Maybe it will get to that point one day, maybe it won't. If it doesn't meet your needs, your development help is welcome, but your whining isn't! Just remember that I do this in my very limited spare time for fun, and I hope others can enjoy what little I have done/will do on it. That said, I hope you enjoy using phpBugTracker, and that you find it useful.
Single Click and Install Web Apps/Scripts
With over 150+ pre-installed programs for our Linux hosting customer receive value added tools and web programs available at no extra install fees, Great scripts including open source and commercial.
Simply login to your Plesk control panel, click on
Install Web Application
and select the web based script/program you want to install. Within minute our script will configure everything for you.
It can't get any easier than that! Most web hosting providers charge "addon" fees to install these programs for you.
Related Links
*** The above information is for reference only, Please seek independent technical advice if found necessary.