Overview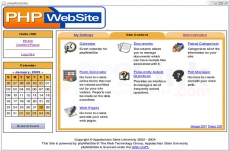 phpWebSite allows an individual or group to easily maintain an interactive, community-driven web site. A brief summary of features is outlined below: Easy, web-based administration - minimal computer experience is needed to maintain site content. Flexible layout control - site page layout can be changed at anytime. Topic-based announcements - organize site announcements by category with automatic history rollover. Interactive content - visitors can post comments, submit announcements and web links. Full featured event calendar - post events by category and subcategory in a flexible cross-referenced calendar. Customized user experience - themes allow each vistor to customize the web site for his or her preferences or special needs. XHTML and WAI compliance - we are committed to meeting XHTML 1.0 specifications by our 1.0 release. Current errors are minimal.
Single Click and Install Web Apps/Scripts
With over 150+ pre-installed programs for our Linux hosting customer receive value added tools and web programs available at no extra install fees, Great scripts including open source and commercial.
Simply login to your Plesk control panel, click on
Install Web Application
and select the web based script/program you want to install. Within minute our script will configure everything for you.
It can't get any easier than that! Most web hosting providers charge "addon" fees to install these programs for you.
Related Links
*** The above information is for reference only, Please seek independent technical advice if found necessary.