Overview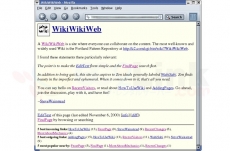 PhpWiki is a WikiWikiWeb clone in PHP. A WikiWikiWeb is a site where anyone can edit the pages through an HTML form. Multiple storage backends, dynamic hyperlinking, themeable, scriptable by plugins, full authentication, ACL's. A WikiWikiWeb is a web site where anyone can edit the pages through an HTML form. Linking is done automatically on the server side; all pages are stored in a database. This may sound rather simplistic, but a Wiki is a very unique way to collaborate on the Web. I set up a few while working at the New York Times on the Web, and the technical staff really took to them in a big way. They wrote 500 pages in just a few months (all to document the internal systems). The addictive quality of a Wiki is that making pages is as simple as making a link to them. If they don't yet exist, the page link will be followed by a hyperlinked question mark; follow that link and you can define the new page. With this setup, you can update and create pages from anywhere there is a web browser handy. Visit the PhpWiki here at Sourceforge. You can try it out yourself! Installation of PhpWiki is as simple as untarring the source distribution. PhpWiki works right out of the box. You will want to make configuration changes later for better performance and permanence, or to run PhpWiki off a relational database like MySQL, mSQL or Postgresql.
Single Click and Install Web Apps/Scripts
With over 150+ pre-installed programs for our Linux hosting customer receive value added tools and web programs available at no extra install fees, Great scripts including open source and commercial.
Simply login to your Plesk control panel, click on
Install Web Application
and select the web based script/program you want to install. Within minute our script will configure everything for you.
It can't get any easier than that! Most web hosting providers charge "addon" fees to install these programs for you.
Related Links
*** The above information is for reference only, Please seek independent technical advice if found necessary.