Overview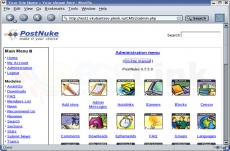 PostNuke is software that creates an impressive, dynamic web site and provides the webmaster with a site they can administer with a minimal amount of HTML knowledge through a web browser.

But, PostNuke's functionality can be increased by installing modules, blocks and themes. For example, you can add a forum, a gallery and contact form. You can also change how your entire site looks by changing themes. All of this can be done with just a few clicks in the administration panel saving you hours of time, both in the initial creation of the website and in its day to day maintenance.

PostNuke can do anything from traditional blog websites, to a community members' only website with hundreds of users. PostNuke can scale to thousands of uses but is just as easy to create a small website for friends and family.
Single Click and Install Web Apps/Scripts
With over 150+ pre-installed programs for our Linux hosting customer receive value added tools and web programs available at no extra install fees, Great scripts including open source and commercial.
Simply login to your Plesk control panel, click on
Install Web Application
and select the web based script/program you want to install. Within minute our script will configure everything for you.
It can't get any easier than that! Most web hosting providers charge "addon" fees to install these programs for you.
Related Links
*** The above information is for reference only, Please seek independent technical advice if found necessary.