Overview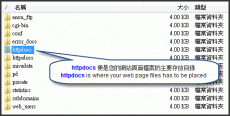 To upload your files with FTP you will need an FTP client.
User name and password are the same as the PLESK.
Upon connecting, you will see a list of the following directories:
anon_ftp

This directory is used for anonymous ftp upload/downloads.




cgi-bin

A directory for your cgi scripts.




error_docs

This directory holds the html error pages that you can customize for your needs.




httpdocs

This is the root of your website where you should put all website related files.




httpsdocs

This is the SSL secured root of your website (https://), Of course if in the setup section of your hosting you ticked "Use a single directory for housing SSL and non-SSL content" then everything should be stored in httpdocs and you simply use http:// for normal connections and https:// for encrypted connections.




private

This folder is for storing personal and private files and cannot be accessed by people using your website.




statistics

This directory is used for storing web statistics and logging information of your website and ftp service.




subdomains

This is used for the subdomains of your website, Eg. subdomain.ec2biz.com.




web_users

This directory is for webusers you created in your plesk desktop.
The
httpdocs
is where your web page files has to be placed.
FTP Server:
ftp.domainname.com (example)
User Name:
ftp_domainnamecom (example)
Password:
Please see your configuration email
Host Directory:
/httpdocs/ for normal web pages (http)
/httpsdocs/ for secure pages (https)
Home Page File:
index.html or index.htm or index.php (lower case)
Attention
Unless default file on httpdocs and httpsdocs, Please DO NOT delete ANY directory or files that have been created by the system, otherwise your web site may disappear into cyber oblivion!

For the security reasons, we enabled FTP over SSL/TLS (FTPS) (Port 21) on our Linux servers.

Please note that the FTP username and passwords are case sensitive.

If you failed to login 5 times, Your IP will be locked for security reasons, Please try next 24 hours again.
*** The above information is for reference only, Please seek independent technical advice if found necessary.