Overview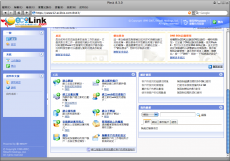 The desktop view originally shows three sections:
Tools. This group shows shortcuts to the operations that you can perform through the control panel. You can freely add and remove these shortcuts.
Statistics. This shows the number of domains you have under your account, disk space and monthly bandwidth usage, and number of mailboxes on your hosted domains.
Favorites. This group shows four types of shortcuts sorted by type and placed on the respective tabs. The Domains tab shows shortcuts to your favorite domains. The Mail Accounts tab shows shortcuts to the favorite e-mail accounts. The Shortcuts tab shows all other types of shortcuts that do not relate to domains and e-mail user accounts. The Recent tab shows last ten control panel screens you have been on. The Favorites group also provides search tool for finding domains and e-mail accounts. To use the search tool, type the search criteria (this can be any combination of symbols, search is case insensitive) and click Search.
To customize your control panel in the Desktop view, refer to the Customizing Your Control Panel in the Desktop View section.
*** The above information is for reference only, Please seek independent technical advice if found necessary.