Overview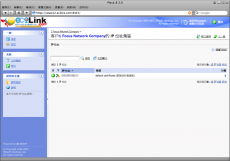 To view the IP addresses included in your hosting package, on your Home page, click
IP Pool
. Your IP addresses are listed and the following supplementary information is given:
An icon in the S (Status) column showsif your IP address is properly configured on the network interface. If your IP address was removed from the network interface by your provider, an icon will show .
An icon in the T (Type) column showsif you were allotted a dedicated IP address, andif the address is shared among other customers of your service provider. A dedicated IP address is not used by other users, so you can use it to host either:

A single e-commerce Web site secured with Secure Sockets Layer encryption,

or

The Certificate column shows which SSL certificate (for what domain name) is tied to an IP address. See the section "Securing e-commerce transactions with Secure Sockets Layer encryption" for details.
The FTP over SSL column shows whether it is possible to use secure FTP connection (FTP over SSL) on one of the domains hosted on this IP. To switch on FTP over SSL for an exclusive IP address, select the check box corresponding to the required IP address under the FTP over SSL column.
The Hosting column shows a number of web sites hosted on an IP address. To view the domain names of these web sites, click the number in the Hosting column.
*** The above information is for reference only, Please seek independent technical advice if found necessary.