Overview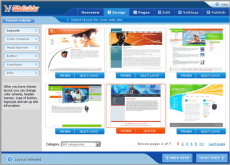 To start creating a Web site using Sitebuilder:
On your Home page, click the domain name you need and then click Sitebuilder Wizard. The Sitebuilder wizard opens.
Select the Create your site option and click Next at the bottom of the screen.
For further instructions on creating or editing your site, refer to the online Sitebuilder Wizard user's guide at
http://download1.swsoft.com/SiteBuilder/4.0.0/doc/user/en_US/html/index.htm
.
*** The above information is for reference only, Please seek independent technical advice if found necessary.