Overview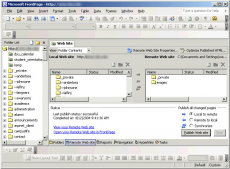 To publish files through FTP:
Open your FrontPage program.
Open a FrontPage Web site: open File menu and select the Open Site item.
Go to Remote Web site view: click the Web Site tab, and then the Remote Web Site button at the bottom of the window.
Set up your Remote Web Site Properties:

Click the Remote Web Site Properties button in the upper-right corner of the window.
Select FTP as the remote Web server.
In the Remote Web site location box, type your host name (e.g., ftp://ftp.your-domain.com )
In the FTP directory box, type your FTP directory if your hosting company provided one. Leave it blank if they did not specify one.
Select the Use Passive FTP check box if your computer or network is protected by a firewall.

Click OK to connect to the remote site.

The Remote Web site view will show files that you have in your local and remote sites.

Click the Publish Web site button in the lower-right corner of the window.
*** The above information is for reference only, Please seek independent technical advice if found necessary.