Overview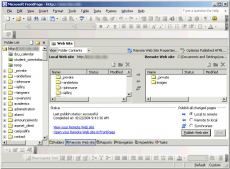 To publish files through HTTP on a server that supports FrontPage Server Extensions:
Open your FrontPage program.
Open a FrontPage Web site: open File menu and select the Open Site item.
Go to Remote Web site view: click the Web Site tab, and then the Remote Web Site button at the bottom of the window.
Click the Remote Web Site Properties button in the upper-right corner of the window.
On the Remote Web Site tab, under Remote Web server type, click FrontPage or SharePoint Services.
In the Remote Web site location box, type the Internet address, including the protocol, of the remote Web site that you want to publish folders and files to - for example, http://www.your-domain.com - or click Browse to locate the site.
Do any of the following:

To use Secure Sockets Layer (SSL) for establishing a secure communications channel to prevent the interception of critical information, click Encryption connection required (SSL). To use SSL connections on your Web server, the server must be configured with a security certificate from a recognized certificate authority. If the server does not support SSL, clear this check box. Otherwise, you will not be able to publish folders and files to the remote Web site.
To remove specific types of code from Web pages as they are being published, on the Optimize HTML tab, select the options you want.
To change the default options for publishing, on the Publishing tab, select the options you want.

Click OK to connect to the remote site.

The Remote Web site view will show files that you have in your local and remote sites.

Click the Publish Web site button in the lower-right corner of the window.
*** The above information is for reference only, Please seek independent technical advice if found necessary.