Overview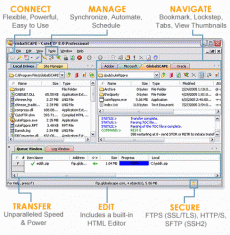 CuteFTP is one of the world's most popular programs to use when uploading websites. It's both easy-to-use and powerful. Follow the tutorial below to learn just how easy it is.
Firstly you will need to install CuteFTP on your computer. If you to not have this program installed I recommend purchasing it.
FTP Server:
ftp.domainname.com (example)
User Name:
ftp_domainnamecom (example)
Password:
Please see your configuration email
Host Directory:
/httpdocs/ for normal web pages (http)
/httpsdocs/ for secure pages (https)
Home Page File:
index.html or index.htm or index.php (lower case)
Attention
Where domainname.com replace to your domain name.

If you have problems with connecting to your website, Please check and make sure that your local internet settings (Firewall, Anti-Virus, IE Internet Options Security Settings) won't block you from connecting to the server on Port: 21.

Unless default file on httpdocs and httpsdocs, Please DO NOT delete ANY directory or files that have been created by the system, otherwise your web site may disappear into cyber oblivion!

Please note that the FTP username and passwords are case sensitive.

If you failed to login 10 times within 60 minutes, Your IP will be locked for security reasons, Please try next hour again.

As a convenience to users, we provide information about how to use certain third-party products, but we do not have technical support third-party products. we are not responsible for the functions or reliability of such products.
Related Links
*** The above information is for reference only, Please seek independent technical advice if found necessary.