Overview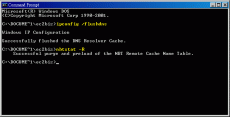 If your website is not coming up, is showing a Plesk Default Page, or if your email is not working, it may be due to the fact that our web servers have recently changed IP Addresses.
Personal Computers will often store IP Address information for 24-48 hours so if you are not able to access your website or email it may be because your computer is trying to find the servers at their old addresses.
Here's what you need to do (Windows):
Close all Internet Explorer Browsers or other Browsers you may have open.
Close all email applications such as Outlook or Outlook Express.
Click The Start Menu.
Choose Run.
Type "command" and hit Enter (a DOS prompt will open).
In the new DOS prompt, type the following commands:

ipconfig /flushdns
nbtstat -R
Once these commands are run, close the DOS prompt and wait 5 minutes, then try to access your website or email again.
*** The above information is for reference only, Please seek independent technical advice if found necessary.