Overview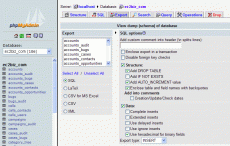 You can easily create a database dump (export/backup) of a databases used by phpMyAdmin.

This tutorial will outline the steps required to export or backup your MySQL databases.
Attention
phpMyAdmin may not handle large databases.

You have NOT backed up the files and folders via phpMyAdmin, such as images.

Please note that the database name, username and passwords are case sensitive.
Related Links
*** The above information is for reference only, Please seek independent technical advice if found necessary.