Overview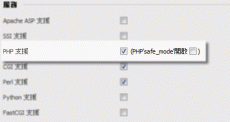 To switch off
safe mode
in Plesk on your hosting account:
Logging In to Plesk control panel.
Navigate to the domain in Desktop.
Click on the Setup icon.
Scroll down the page to Services section
Make sure PHP is checked but Safe mode on is UNCHECKED
Click the button labled OK
Done! The website will now be running PHP with safe mode off.
Related Links
*** The above information is for reference only, Please seek independent technical advice if found necessary.