Overview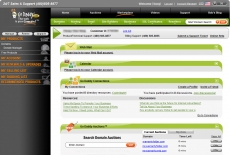 If you recently purchased Focus Network Company web hosting or E-Store, but your domain name was previously hosted somewhere else, you will need to change your DNS information to the follow these simple steps:
Log in to the GoDaddy Account Manager. http://www.godaddy.com
Select Manage Domains from the Domain Names dropdown menu or the Manage Your Account list.
Select the domain name you wish to modify using the checkboxes and then click Set Nameservers Icon.
Select Custom nameservers (I host my domains elsewhere.).
Enter our name server information to Nameserver 1 and Nameserver2 from below.
ns1.powersx.com
ns2.powersx.com
Click OK at the bottom.
*** The above information is for reference only, Please seek independent technical advice if found necessary.