Overview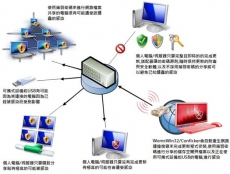 The Conficker virus infects computers through exploiting a vulnerability of Microsoft Windows. Variants of the virus can also spread through file sharing and via USB drives, such as removable drives.
The Conficker virus can disable some important security services on infected computer. It also attempts to prohibit user from accessing some security sites. As result, an infected computer may be unable to download certain security products. Most anti-virus software can detect and block the virus. If you have an updated anti-virus software with updated virus signature file on your computer, you are at a much lower risk of being infected by the Conficker virus.
Prevention
Perform following tasks to protect your computer from Conficker virus infection:
Install anti-virus software and keep the virus signature file up-to-date.
Install and enable a personal firewall.
Enable and properly configure real-time detection to scan your machine for computer viruses and malicious code.
Apply security patches from Microsoft Windows, in particular the security bulletin MS08-067 which was issued in October 2008.
Use strong passwords for user account and file shares.
Disable AutoRun feature for removable devices, if possible.
Schedule a daily full system scan to check for viruses or malicious codes.
Detection and Recovery
Your computer may be infected if it fails connecting to websites of security vendors or downloading security updates. You should:
Disconnect the infected computer from the network.
Use a non-infected computer to download a malware removal tool to clean up the machine.
http://www.microsoft.com/security/malwareremove/default.mspx
http://www.bdtools.net/how-to-remove-downadup.php
Perform steps under Prevention to protect your computer.
Re-connect the cleaned computer to the network.
Related Links
*** The above information is for reference only, Please seek independent technical advice if found necessary.