Overview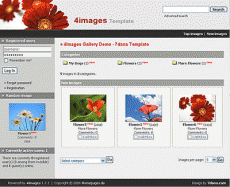 4images is a powerful web-based image gallery management system. Features include comment system, user registration and management, password protected administration area with browser-based upload and HTML templates for page layout and design.

By using the integrated template system the design and layout can be customized easily. 4images is multilingual: an external language file can be used for translation in other languages.

More features are: RSS feeds, search engine, automatic thumbnail generation, extensive user administration, upload function for users, showing IPTC and EXIF data of images, rating of images, spam protection, protection against hotlinking, newsletter, e-cards, integrated database backup function, etc.
Single Click and Install Web Apps/Scripts
With over 150+ pre-installed programs for our Linux hosting customer receive value added tools and web programs available at no extra install fees, Great scripts including open source and commercial.
Simply login to your Plesk control panel, click on
Install Web Application
and select the web based script/program you want to install. Within minute our script will configure everything for you.
It can't get any easier than that! Most web hosting providers charge "addon" fees to install these programs for you.
Related Links
*** The above information is for reference only, Please seek independent technical advice if found necessary.