Overview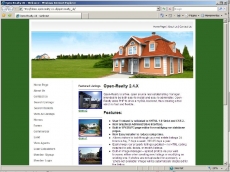 Open-Realty is an open source web based real estate listing management application. It is intended to be both easy to setup and use.

Written in PHP, Open-Realty is designed to be a fast and flexible tool for your real estate website. With a large open-source community working with this application, and solid management from Transparent Technologies, Inc. Open-Realty is the top choice for use on your website.

Open-Realty has been the first choice in open source real estate web site solutions since 2003. Open-Realty provides easy installation, highly customizable templates, virtual tour support, advanced search capabilities, and many other features. Combine this with commercial add-ons such as our IDX data importer, RETS data importer, and advanced Google map integration and you have all tools needed to have a top real estate website in your market.
Single Click and Install Web Apps/Scripts
With over 150+ pre-installed programs for our Linux hosting customer receive value added tools and web programs available at no extra install fees, Great scripts including open source and commercial.
Simply login to your Plesk control panel, click on
Install Web Application
and select the web based script/program you want to install. Within minute our script will configure everything for you.
It can't get any easier than that! Most web hosting providers charge "addon" fees to install these programs for you.
Related Links
*** The above information is for reference only, Please seek independent technical advice if found necessary.