Overview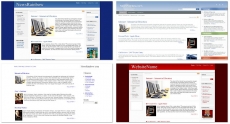 This powerful new tool is the only program you.ll need to create your Webpages. Use Article Publisher to create and manage content, generate search-engine-friendly URLs, and pinpoint which Webpages net you the most readers.

Advanced WYSIWYG editing, best-of-breed imaging functionality, and customizable features make content management simple and efficient. Automatic RSS feeds keep regular viewers updated and bring new viewers to your site.

Our easy-to-use template engine helps you to keep the look and feel of your Website fresh with an unsurpassed flexibility and range of options. You can also use Article Publisher to get to know your Website dynamics in real time; view which Websites are sending the most traffic to yours, and which search engine spiders visit your site most frequently . and which pages they crawl. Track AdSense clicks and see precisely when and where users clicked. Best of all, automatic installation has you up and running in no time!
Single Click and Install Web Apps/Scripts
With over 150+ pre-installed programs for our Linux hosting customer receive value added tools and web programs available at no extra install fees, Great scripts including open source and commercial.
Simply login to your Plesk control panel, click on
Install Web Application
and select the web based script/program you want to install. Within minute our script will configure everything for you.
It can't get any easier than that! Most web hosting providers charge "addon" fees to install these programs for you.
Related Links
*** The above information is for reference only, Please seek independent technical advice if found necessary.