Overview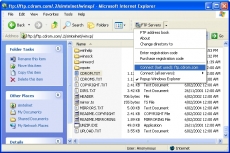 Internet Explorer(IE) include built-in FTP functionality. To connect to a website via FTP and transfer files, follow the instructions below.

If your FTP requires a username and password, you will obviously need these before you begin.
Attention
Internet Explorer(IE) is adequate for performing simple FTP uploading and downloading. However it is not a serious FTP client. If you need to perform frequent or complex file transfers, you will quickly become frustrated with this method. Using Internet Explorer is only recommended for beginners or infrequent FTP users.

If you failed to login 5 times, Your IP will be locked for security reasons, Please try next 24 hours again.

As a convenience to users, we provide information about how to use certain third-party products, but we do not have technical support third-party products. we are not responsible for the functions or reliability of such products.

Internet Explorer is a trademark of Microsoft Corporation.
*** The above information is for reference only, Please seek independent technical advice if found necessary.