Overview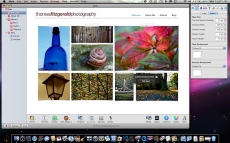 In this tutorial you're about to learn how to upload your website content via FTP client software called iWeb.
iWeb is a template-based WYSIWYG website creation tool developed by Apple Inc. Users can then publish their websites to MobileMe or another hosting service.
Designing a website may seem difficult, but with iWeb, it's easily within your reach. Create your site using themes. Customize it with photos, movies, text, and widgets. Then publish to MobileMe or any other hosting service. iWeb even notifies Facebook when your site changes and adds a link to your profile so your friends stay up to date.
FTP Server:
ftp.domainname.com (example)
User Name:
ftp_domainnamecom (example)
Password:
Please see your configuration email
Host Directory:
/httpdocs/ for normal web pages (http)
/httpsdocs/ for secure pages (https)
Home Page File:
index.html or index.htm or index.php (lower case)
Attention
•Where domainname.com replace to your domain name.

•If you have problems with connecting to your website, Please check and make sure that your local internet settings (Firewall, Anti-Virus, IE Internet Options Security Settings) won't block you from connecting to the server on Port: 21.

•Unless default file on httpdocs and httpsdocs, Please DO NOT delete ANY directory or files that have been created by the system, otherwise your web site may disappear into cyber oblivion!

•Please note that the FTP username and passwords are case sensitive.

If you failed to login 10 times within 60 minutes, Your IP will be locked for security reasons, Please try next hour again.

As a convenience to users, we provide information about how to use certain third-party products, but we do not have technical support third-party products. we are not responsible for the functions or reliability of such products.

iWeb is a trademark of Apple Inc., registered in the U.S. and other countries.
Related Links
*** The above information is for reference only, Please seek independent technical advice if found necessary.